GET READY TO LAUNCH YOUR CLIENT-FINDING JOURNEY TO NEW HEIGHTS!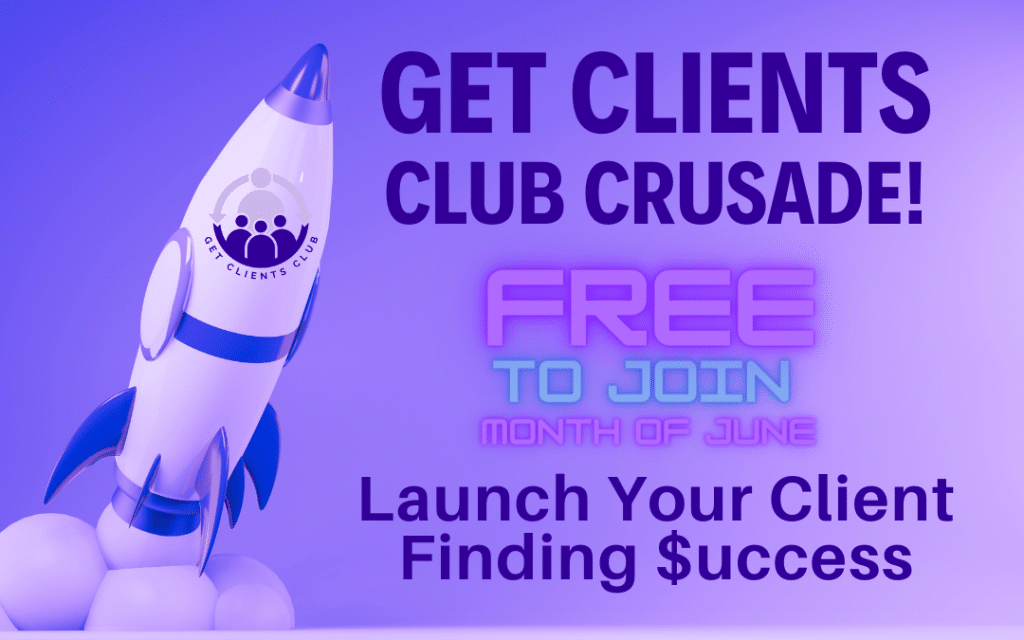 Ignite your client-finding journey with the Get Clients Club Crusade, a turbocharged experience crafted exclusively for ambitious freelancers and virtual assistants like yourself. Embark on an electrifying email training odyssey spanning the entire month of June, propelling you into the stratosphere of unparalleled success in attracting clients. Prepare to launch into the realm of client-finding triumph like never before!
What to Expect From the Get Clients Club Crusade:

Thrilling Trainings: Access exclusive video trainings, guides, and resources delivered directly to your inbox throughout the month of June. Learn proven strategies, insider tips, and powerful techniques that will propel your client acquisition efforts to new dimensions.

Explore the Galaxy of Client-Finding: Dive deep into 50 impactful ways to attract clients like never before. Unlock the full potential of each approach and build an extensive toolkit of effective strategies that will help you soar among the stars.

Personalized Mission Control: Interact with our expert coach through live Q&A sessions. Seek guidance, ask questions, and receive personalized support to overcome challenges and refine your client-finding strategies.

Ignite Savings: As a member of the Get Clients Club Crusade, you'll enjoy exclusive time-sensitive discounts on the Get Clients Club membership. Secure your spot early to maximize savings and gain ongoing access to valuable resources and support.
Join us now and prepare for an exhilarating journey that will propel your freelance dreams to the stratosphere. Buckle up, fasten your seatbelt, and get ready to blast off into client-finding success!
Wishing you Skyrocketing $uccess,


Tawnya Sutherland
"Your Virtual Assistant MotiVAtor"